MARCH 22nd IS OUR GRAND OPENING!

By Joe Wallace

    


Come out on March 22nd to celebrate the Grand Opening of our neighborhood grocery store!  At the cross-section of sustainability, local economies, and community involvement the co-op synthesizes all that makes our town a truly special place to live and take pride in.
At 10 am Doylestown Mayor Ron Strouse will initiate the ribbon cutting ceremony. At noon, farm preservationist and pioneer Gloria Hall, will showcase her original Save the Farms poster and speak about the history and importance of farm preservation.  And at 2pm, the Vitamix raffle will commence!  Throughout the day there will be raffles with chances to win valuable prizes as well as in-store food and samples.  Every customer will receive a raffle ticket for every $20 spent from March 22nd until Saturday March 29th at 12pm.  Members receive 2 raffle tickets for every $20!  The winners will be drawn on March 29th.
Whether you've been to the store before or this will be your first time, come over this weekend to see and taste what truly exciting products the co-op has to offer!  The Doylestown co-op offers a unique one-stop experience spanning local meat and dairy, baked goods, body products, bulk bins that include coffee, and an amazing array of locally grown produce.
Join the fun this Saturday in celebration of our invaluable community staple!


FARM FRESH FILM SERIES "In Organic We Trust"
By Patricia Cangelosi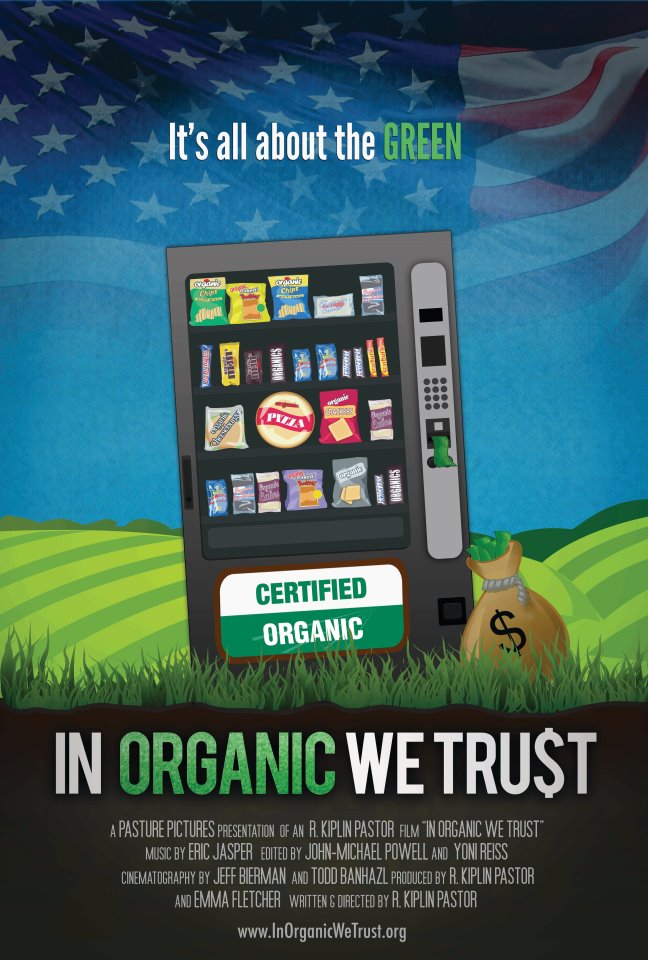 Are you enthusiastic about organic food or curious to know more about where your food comes from?  Do "Organic", "Natural" and other general food labelings confuse you?  If so, join us this Thursday for the first installment of our 2014 Farm Fresh Film Series. Buy tickets here, read more about it here.  Each film explores aspects of the food system in America and reminds us that what we put in our bodies impacts our health, our community, and our world.
In Organic We Trust is an eye-opening documentary that examines how local farmers markets, school gardens and urban farms are revolutionizing the way we eat. The Co-Op partnered with the County Theatre and the Bucks County Foodshed Alliance to present this year's first installment this Thursday, March 20.  Doors open at 7:00 p.m for the 7:30 showing. The film will be followed by an interactive panel discussion with experts who will talk about key ideas in the film.
"The audience discussions help the community generate ideas that can be implemented in our area," says Co-Op board member Kira Kraiman.
Learn more about this film at www.inorganicwetrust.org/food_documentary. For more information about the film series or the Doylestown Food Co-Op, contact Beverly Shymon at:  bshymon@comcast.net


FEATURED PRODUCER - TUSSOCK SEDGE
by Olivia Banta 
It is a busy time at Tussock Sedge, located in Blooming Glen in Upper Bucks County just under 10 miles from The Doylestown Food Co-op.  This time of year, calving season,  Henry and Charlotte Rosenberger have been anticipating the new births. This is a new beginning of a group of calves who will eventually go on to feed our area families.
The Rosenberger's never dreamed of doing what they are doing but would not change it now. They started with a few cows and the next year increased by 22 more. That big change is indicative of how the farm has grown over the years.  Read more about them here.


FOOD FOR THOUGHT BOOK CLUB REVIEW
by Joe Wallace
On March 11 a lively group gathered to discuss Daphne Miller's exciting book, "Farmacology" at the Doylestown Bookshop.  Energized by the warm weather outside, the group discussed a wide array of topics relating to Dr. Miller's book.
The author explores the notion that human health and farm health reflect one another, and are more closely related than previously thought.  For instance, Miller states that nitrogen to oxygen ratios as well as healthy bacteria levels are nearly identical in both healthy humans and healthy soil.  As a practicing physician, Miller was fascinated with the idea of using nature as a catalyst for thinking about human health in new ways.  Over a period of several years, she traveled to farms around the country that embraced a holistic and biodynamic mindset. Each farm- whether an urban garden, cattle ranch, or vineyard, provided the author with a unique lens through which she viewed related human health issues.
Our group took on a great discussion of the book.  On a very exciting note there were even three generations of women in the same family who showed up to discuss what they read and how they felt about it!  As a group we talked about all the positives that come from healthy and local gardening.  We covered topics of raw milk, industrial farming, what does true "organic" certification mean, and much much more. (If you are intrigued by Organic Certifications, come and view "In Organic We Trust" on the 20th)
So we hope to see you at the next book club! Even if you do not read the book, it is fun discussing important topics that give us food for thought about our food system and the food we eat.  [And members often bring fun local snacks as well!]


FEATURED RECIPE - HEARTY FLAT-BREAD PIZZA
submitted by Jena Hamilton


This recipe for a hearty flat-bread pizza features Castle Valley Mill flour, local mixed greens, local cheeses and local garlic.  Find the recipe here


LEARN MORE - PENNSYLVANIA ASSOCIATION FOR SUSTAINABLE AGRICULTURE
by Lisa White
Known warmly as PASA by the farmers in our region, this organization promotes "profitable farms that produce healthy food for all people while respecting the natural environment."  PASA brings farmers together to learn, build relationships, and support one another.
Learn more
about the great work of this wonderful organization.  
DID YOU KNOW??
by Joe Wallace

Money spent locally, reinvests locally.
A 2008 Study of West Michigan communities in Kent County supported the economic reasons for buying from local/ privately-owned vendors.
For every $100 spent at a local store, $68 dollars stayed within the community (supplies, taxes, wages, local imports, donations, etc.)
By contrast, of $100 spend at a larger chain store, only $43 stay in the local economy.  Suppliers, workers, and benefactors tend to live outside the community where the store is located.
Source: Civic Economics in Partnership with Local First of West Michigan
Find the full study here [check out the Local Works!-Executive Summary on p.7]: http://bealocalist.org/sites/default/files/file/GR%20Local%20Works%20Summary.pdf